Lemon Verbena Benefits
Lemon Verbena may help to reduce oxidative damage sustained during intense exercise, a beneficial addition to your post workout recovery routine.
The verbascose in lemon verbena can provide antioxidant and anti-inflammatory effects, lowering joint pain.
Widely used as a digestive aid, the relaxant qualities can soothe stomach cramps.
It is thought that lemon verbena can be used to reduce phlegm and mucus, eliminating congestion.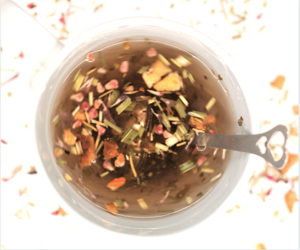 Our Self-Love Tea Blend combines the juiciness of dried raspberry with the potency of luxury lemon verbena – both noted by spiritualists for their love-inducing properties. In ancient Rome, Lemon Verbena was said to ignite the flames of passion within lovers. Subsequently it found favor as an ingredient in a popular love potion, used during the ancient rites of Aphrodite. During the Middle Ages, Raspberries, for their part, were said to invoke the energy of the blood, facilitating the flow of love and kindness through the body. Put them together and we can't say where your love will go. What we can say, is that the bright citrusy burst of Lemon Verbena happens to pair exceedingly well with the tart sweetness of raspberry. Blended here with an additional assortment of herbs, fruit pieces and flower petals, these two powerhouses help produce a naturally caffeine-free cup that brightens the mind, lifts the body and inspires the spirit. The next time you're feeling like your life could use an infusion of love, this is the tea to reach for. Fragrant, refreshing and packed with antioxidants and vitamins, your body is going to say "I love you" with every sip.