"Let it Go-range" by Steep Roots Tea Company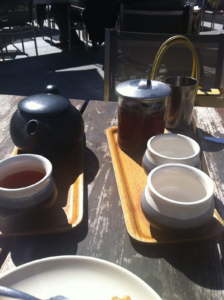 Today's Tea for review comes from Steep Roots Tea Company. Steep Roots is based in Bloomfield, NJ since 2020 working by the motto: "Root down and stay grounded". Their motto comes from a company commitment: transforming the experience of your 'daily cup of tea' into an opportunity for layers of connection. One with meditation in the practice of making, preparing and drinking a given blend and Two, with personal understanding of who and how you are in the present moment. Steep Roots is a mental health positive company hoping to link tea with active self care. Steep Roots is offering customers a selection of hand picked, Fair Trade Organic Certified tea blends. Beyond these, their company website: www.steeprootstea.com has a collection of tea equipment tools and witty tea-related apparel to explore.
Today's Tea: "Let it Go-range" blend from Steep Roots Tea Company is a Black tea-based blend with "orange pieces, blackberry leaves, safflower petals and Organic compliant natural flavors" from the label card. During this initial tasting, I did not add sweeteners or milk.
The opening aromas are orange and a light floral one. It reminded me of walking past lilies at night. After a four minute steeping time, the orange intensifies as I prepare to drink. At first sip, the fresh orange is soft, like clementine or tangerine. The bright fragrant orange is not acidic or sharp. There is a background taste, sweet and tart like black plums, from the blackberry leaves. Later sips open up an earthy nuttiness. It is similar to pine nut or pistachio that does not overwhelm the Black tea root or orange notes. An herbal aroma and taste like basil permeates the full brew as well. This herbaceous note and the impression of lilies may be from the added safflower petals. I find the safflower petals add a surprising layer of floral depth to "Let it Go-range". To my taste, the blackberry leaves improve the blend's smoothness. Also, I find they may limit how saccharine sweet the fully brewed serving can get. The caffeine is moderate, but did not make me jittery. Still, I recommend this as a quiet morning companion or invigorating afternoon lift. Try it at multiple times to figure out when works best for your body. Again, in preferences, try this tea with some sugar or honey. But, I think adding milk may cloud the subtler herbal undertones.
If I were to give "Let it Go—range" a color it would be white. Because after tasting, I felt the relaxing quiet of reading seated by a tree of gardenias or jasmine. "Let it Go—range" as an instrument would probably be either a banjo or marimba. Resonant, clear notes but even and calming heard together. For my taste, this blend is an uplifting Black tea combined with understated but rewarding flavors. Its unique fruitiness could be ideal for service hot or iced when entertaining guests. Lounge into some calm—-Undeniable citrus taste and floral elements make "Let it Go—range" an exciting addition to your Black tea collection.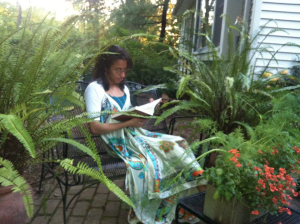 "Let it Go—range"
Teas featured: Black
Product Link: https://steeprootstea.com/product/let-it-go-range/
Flavor Balance: 5 (All stay present during tasting)
Body: Light to Medium
Pairing (Savory to Sweet Foods, 1-6): 4-6, (This blend has subtler flavors)
Caffeine Strength: Low to Moderate (Depends on steeping time)
For more reviews from this author please visit http://www.thecivilianteaapprentice.wordpress.com/